Disclaimer
Information presented on this web page is intended for informational and educational purposes only and is not meant to be taken as legal, financial, investment or tax advice. We do not accept any responsibility for any trading or investment related losses. Please review our disclaimer on before taking action based upon anything you read or see.
Payouts are straightforward and efficient. Before the payout, eBay deducts your selling costs and fees from your funds. Final value fees, promoted listings, insertion fees, store subscription fees, and listing upgrades are some examples of eBay selling fees. When the buyer pays, the funds appear in Seller Hub as Processing. It's finally time to ship the order.
You can use your funds to purchase shipping labels from USPS, UPS, or FedEx. eBay will charge your default payment method if your funds are insufficient to cover these charges.
eBay typically makes funds available within two days of receiving payment confirmation from the buyer.
You can have available funds sent to your bank account based on your preferred payout schedule, or you can request a payout on demand if you're on a payout schedule, whether weekly, biweekly, or monthly. Your bank will typically take an additional 1-3 days to make your funds available after eBay initiates a payout.
You can use an existing checking account or open a new one. Please ensure that your bank account's name, address, and business information (if applicable) match the name and information on your eBay account.
How to Transfer Money from eBay to Bank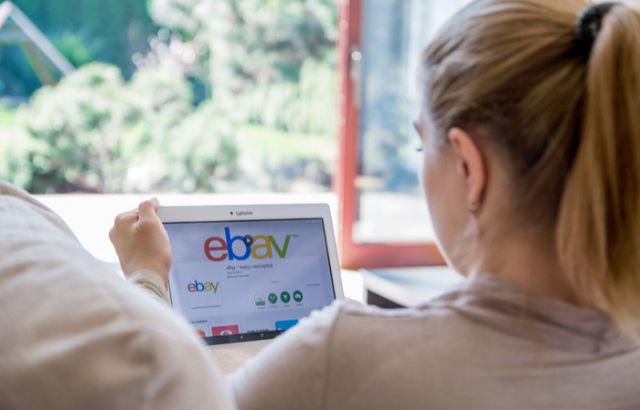 Know the requirements before you can transfer money from eBay to a bank
Try to figure out what the requirements are for transferring money from eBay to a bank account. 
You can transfer available funds to your bank account based on your preferred payout method. eBay typically makes funds available within two days of receiving payment confirmation from the buyer.
List the things you will need to transfer money from eBay to the bank
To transfer the funds, eBay will:
Verify the details of your account.
eBay will verify your identification by reviewing your account details for payouts and, if appropriate, your company details before allowing you to register as an eBay seller or make any necessary updates to your account information.
eBay will notify you in My eBay messages and alert your account if the marketplace has trouble verifying your information. eBay will notify you of any additional information required, as well as instructions on how to send it.
Verify your identity
Individual sellers must provide the following information:
Full name
Address
Date of birth
Social Security Number (SSN)
Registered businesses will be required to give the following:
Phone number
Individual identification information for officers, beneficial owners, directors, or account managers
Legal business name
Employer Identification Number (EIN)
Address of Business
Doing Business As" name
Confirm your banking details
Pay you
You will receive an email from eBay once your information has been verified.
When your buyer's order is confirmed, eBay begins processing your payout within two business days. Your funds will typically clear into your checking account within 1-3 business days.
Determine if the bank is an intermediary or receiving bank
The bank that acts on behalf of the sender bank is an intermediary bank. You must always submit the beneficiary bank information and never the intermediary bank information since you are the payment's final beneficiary. Otherwise, your payment may be delayed. 
Send a test transfer of your money from eBay to the bank account
After everything is set, send a small sum of money from eBay to the bank account to see if the transaction is smooth.
Confirm all the details of your real money from eBay to the bank account
Verify all the details related to money and the bank account to proceed.
Transfer cash from eBay to a bank account
Hit the transfer button so that the processing can proceed.
Get confirmation
You will get a confirmation message that the transfer worked. Finalize everything, including tracking numbers, dates, and other pertinent information.
Note: The money will be changed to your payout currency if the buyer makes a payment in a different currency than your payout currency. The order information will include the currency exchange rate noted at the time of sale. In the event of a refund, this exchange rate will be used.
Frequently Asked Questions
How long does it take for money to be transferred from eBay to a bank account?
The payout will be processed within 2 business days of payment confirmation. It typically takes 1-4 business days for funds to clear in your account and become available to you after they are initiated.
Is it safe to link a bank account to an eBay account?
eBay needs to be more secure to allow direct access to your bank accounts. 2. If you did not link your bank account to eBay, they might have quietly removed your listings.
How do I get paid on eBay if I don't have PayPal?
How Can You Get Paid on eBay If You Don't Have PayPal? To be paid on eBay, you must enroll in the Managed Payment System and provide your bank card and Social Security Number for tax purposes. If you do so, your account will be allowed once you provide the requested information.
How to Make an Instant Payment Listing?
Choose to Require immediate payment with Buy It Now when filling out the listing form's payment options to create a listing that accepts immediate payment.
Is it necessary to have a separate bank account for eBay? 
You should establish a separate bank account if you intend to sell on eBay seriously (earning more than $400 per year and filing taxes). Having a separate bank account for your business is one of the basics of owning a business.
My Opinion
Setting up your VISA or Mastercard debit card as a payout method is the best because you get your money faster through this method. You'll have two payout options after your debit card has been verified.
The first is that you get your money on a timetable. You'll have your money for scheduled payouts in minutes, not days.
The second option is that you can request your payout before the schedule.If your payout schedule is weekly, biweekly, or monthly, you can also request an express payout of all or part of your available funds on demand. Typically, your bank will make your funds available within 30 minutes.
Conclusion 
Transferring money from eBay to a bank account is now very easy and fast. It takes only 3 business days for the whole process.
References