Disclaimer
Information presented on this web page is intended for informational and educational purposes only and is not meant to be taken as legal, financial, investment or tax advice. We do not accept any responsibility for any trading or investment related losses. Please review our disclaimer on before taking action based upon anything you read or see.
We all wish to send gifts to share the act of generosity. Anonymous sharing of anything is a great virtue and makes us feel good. When you have money but don't know how to send money anonymously in a bad financial situation? In that kind of dilemma, due to pride, many feel shy to take the help of others.
So, that's why many helpful platforms offering services in sending money anonymously online or using different cards will help you deal with these financial situations.
There are many ways of sending money anonymously. For donating, paying, or charity work, these platforms are reliable. Americans in 2019 have spent $137 Billion on these platforms, which indicates their importance.
Spending and sending money on these platforms is easy, but that requires a price. The price is in the form of our privacy. So, to secure privacy and send money anonymously, you need to follow the guidelines.
How to Send Money Anonymously: 15 Ways to Send Money Anonymously
You have several options for sending money anonymously:
Money Transfer Services
Blank Checks
Cryptocurrencies
Prepaid Cards
Pay by Cash
Pay by the charity organization
Use gofundme
Use third part delivers cash
Make an alter ego-email address on Paypal
Create a Business or Premier PayPal account
Use Disposable (Virtual/Masked) credit cards
Use the prepaid gift card
Use border P2P payments
Paying by cash
Use third-party private payment services
Money Transfer Services
The ideal approach to handle a broad range of unique money transfer demands is via money transfer services. You may send money that cannot be traced using the correct provider. The selection of suppliers you wish to work with is crucial. Western Union is the most widely used conventional money transfer service.
The banks and your receiver won't see your or your financial information if you choose this option. The receiver's bank will record only the money and the name of the transfer service.
Blank Checks
Most checks have the user's name written on them and originate from business or personal checkbooks. However, many banks can help you write a more private check.
Try asking your bank for a single check with your name crossed out to get a blank check. Typically, all that is required to be written on the check is the account number. As a result, the receiver is allowed to cash the check, but only the banks can determine who is who.
Cryptocurrencies
Cryptocurrencies are a common pick when thinking about how to pay money anonymously online since they provide anonymity and control. It's crucial to distinguish between various cryptos, however. Bitcoin, the most popular cryptocurrency, doesn't provide all the privacy many people think it does.
The donor and receiver wallet addresses and the timings and amounts of each Bitcoin transaction are all recorded on the blockchain. While it is considered a reasonably anonymous way of money transmission, it is not entirely private.
Prepaid Cards
When applying for a debit or credit card, you often have to undergo a protracted procedure where the card issuer carefully examines your financial background. Most debit cards have all activities noted, whereas credit cards need a thorough credit check.
Prepaid credit and gift cards are available with much more privacy. Most debit card companies provide prepaid cards that don't keep track of transactions if you seek a way to pay money anonymously.
Simply top the card with enough money in advance, and then use it as required. There is no need to record transactions since you have already given the money.
You must choose a single-use card since reusable cards often demand Ssn and credit checks, while solitary cards do not.
Pay by Cash
One of the safest ways to transfer money discreetly is using this approach. If you want to maintain your anonymity, it's important to use cash whenever you can. Given the many modern payment mechanisms that enable quick and secure transactions, cash could no longer be king.
But when it comes to anonymity, money still has the upper hand. There is no accountability if you don't provide or get a receipt once the cash transfer is finished.
Pay by the charity organization.
This is undoubtedly a different approach to donating money secretly. However, you must research before dealing with an agency. You must be certain that the money you spend will be put to the intended use. Almost any charity can help you direct your donations to deserving people or causes while assisting you in maintaining your anonymity if you discover one with which you feel comfortable.
Use GoFundMe
Another fantastic platform for sending money anonymously is GoFundMe. Simply join the group if multiple individuals are contributing money together. You can join most groups without putting your name on the list.
Some just list the participants with a note that "those involved who chose to have their names suppressed" is included at the end. You should be safe if you use the plural "others."
Use a third party to deliver cash.
Of course, this person has to be trustworthy, but you may ask a trusted friend or relative to make a financial contribution on your behalf. It's challenging to accomplish this without being "found out." However, it may work if you choose a person that the other person or business does not truly know.
Make an alter ego-email address on PayPal.
Although it may seem odd, most websites merely demand a working email address and accurate bank information. You may meet those conditions and maintain anonymity from the person receiving payments by utilizing an email account that isn't associated with your identity.
Simply create a Gmail account under "Anonymous Donor" or "Giving Back" and transfer the funds from there. This is how PayPal.com allows for anonymous donations.
Create a Business or Premier PayPal account
Many individuals use a safe PayPal account while attempting to find out how to pay money anonymously over the Internet. PayPal offers many account kinds. Using fictional personal information to open an account and make quick payments is possible with Business and Premier Accounts.
To transfer money anonymously online, all you need to do is add the email address of your receiver to your list of payees.
Use Disposable (Virtual/Masked) credit cards.
Virtual credit cards offer several benefits compared to prepaid cards and other similar devices. These credit card details let you use your actual credit account to make purchases. This works without divulging the real account number of your credit card.
This is fantastic since it enables anonymous accounts to use money from your genuine credit account to operate. Additionally, it protects your actual account against data breaches.
Simply cancel the virtual account if you're concerned that your data may have been misused or hacked.
Use the prepaid gift card.
In certain situations, prepaid gift cards supplied at petrol stations or retail establishments may be used as anonymous payment. Prepaid gift cards could be accepted as a form of payment based on the service you wish to pay for. This is fantastic since the cards don't have any ID or payment information.
Additionally, they are rather readily accessible and simple to use on services that accept them, such as making an anonymous VPN payment. When you consider signing up for the service you want to pay for is the only time you need to worry about your information being disclosed.
You could be able to use a prepaid gift card online, offline, or both ways, depending on the card.
Use border P2P payments.
Users may transfer money fast while maintaining the confidentiality of their bank account information using border P2P payments. Sending payments just needs the recipient's phone number or email address.
One of those data items may be used to add somebody to the app's contact list. These programs are often free and simplify dividing expenses with friends and family.
Paying by cash 
The original trusted anonymous payment method is cash. This is unbeatable, even if you'll need to set up an anonymous cash payment using a secure postal courier or an intercontinental cash transfer provider like Western Union. Remember that before sending the money, you should not include a return address or other identifying information.
Cash is tried and reliable, but there are some apparent drawbacks, such as the possibility of postal mistreatment. Cash is still an excellent option for making anonymous payments, however.
Use third-party private payment services.
Several private payment services have been developed in response to the rising need for anonymous online payment options. They all handle payments in somewhat different ways that are peculiarities. Generally speaking, they are beneficial to use as long as you are cautious to avoid registering with your actual name or personal email address.
These techniques are only accessible online as they are websites or mobile applications.
Best Untraceable Money transfer apps 
Some of the Best Untraceable Money transfer apps include:
1. PayPal
PayPal stands out from the competition because of its extensive, adaptable, flexible, safe, and simple payment processing capabilities. A PayPal sum, checking account, or Amex Send profile may all be used to send money discreetly and without restriction. You may also use PayPal Quick Transfer to send money immediately for a charge.
 Obtaining and initiating the payment processing procedure from up to many persons at once just takes a few minutes.
2. WorldRemit
Within minutes, receivers may receive money sent using the WorldRemit app. wherever receivers are located; most transactions are completed within 24 hours. You both get a coupon to spend on your subsequent transfer when you refer a colleague to WorldRemit. Additionally, new-time users may make their first 3 transfers cost-free using the promotional code 3Free.
3. Cash App 
Great software for transferring money anonymously is Cash App. It is further distinguished due to its simplicity, use, and lack of expenses.
Additionally, Cash App provides specific choices not seen in other money transfer applications, such as investment opportunities, the ability to get discounts with "cash boosts," and the ability to purchase and sell bitcoin.
4. Venmo
Offering the perfect blend is Venmo. It provides a fast and simple method for sending and receiving money anonymously. Additionally, it provides a possible "parking space" for your money. Money from Venmo may be used, sent, or transferred to a bank account. These factors contributed to it winning the shared costs category.
Even adding animated stickers or emoticons to your transactions might make this process more engaging.
5. Zelle
Through the user-friendly software, Zelle users may send money to other Zelle users anonymously. Users may use a phone number or email address to give or request money. To send or receive funds, the recipient has to have a Zelle account. Zelle sends a text message or email with a link to make money.
The Best Untraceable Money transfer apps have also been highlighted in the infographic below.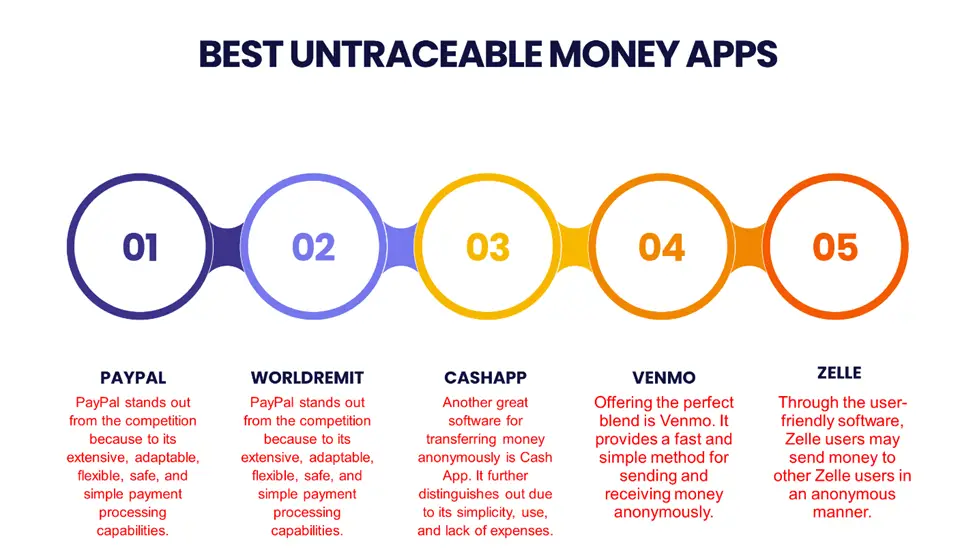 Pros & Cons of Sending Money Anonymously
The Pros & Cons of Sending Money Anonymously can be seen in the table below:
| | |
| --- | --- |
| PROS | CONS   |
| Assists you in keeping your transactions secret from the authorities   | If you do this, you can be immediately marked as a suspect.   |
| Non-government-controlled media is prohibited in several nations. Therefore, if you subscribe to the Wall Street Journal, you risk making enemies with the public very rapidly. Paying anonymously is thus crucial. | Even if the company chooses not to disclose your information to the receiver, it will be linked to an anonymous transaction.   |
| Enables you to maintain your financial privacy easily   | When there is a valid reason to do so, officials have the authority to locate anonymous financial transactions.   |
| If you don't want to provide internet businesses access to personal data, it's crucial.   | It could be challenging to get a refund for the services. |
| Pretty solid proof that you're attempting to get around Internet restrictions is a VPN subscription that shows up on your bank account. You can get around this by making an anonymous payment. | Potential courier processing error |
| Making a gift to a charity anonymously allows you to do it without being acknowledged.   |   |
| Assists you in protecting your account information in case of a data breach from criminals.   |   |
Is it Legal to Send Money Anonymously?
Yes, providing your personal information while transferring money online doesn't seem like a huge problem. However, there are several circumstances where you would desire to send money online anonymously. For instance, you could want to donate to a charity without getting publicity. Or maybe you don't want to share your personal information with internet businesses.
We are all obliged to a certain amount of privacy and data protection, regardless of the motivation. Therefore, sending money anonymously is acceptable.
Frequently Asked Questions
How do you transfer money secretly?
The most convenient and easy way to send money anonymously is online. This is the most-faster option you can go for. Other than that, to send money online, you will need to create an email address. You can easily send money by using anonymous services like Gmail and Yahoo.
The difference between your actual email address and the one you created as an additional email is that this one will have fake credential details. Moreover, there are many more related platforms for sending money online.
How can I pay someone anonymously?
PayPal is one of the most secure and fastest ways to send and receive money. It has been approved by almost every country in the world; it's easy for you to find a department that accepts PayPal, too.
You'll need an email from your recipient before sending them any funds. They can see when they open their inbox that some amount was sent to their account without mentioning who made this transfer!
That means these transactions are anonymous – perfect if you want privacy or prefer not always to identify yourself. It offers easy terms for a transaction or sending some amount. The sender's email will be fake and not recognize who has sent the money. It is the best way to send anonymously using PayPal.
Many methods are available for transferring large sums electronically without having physical contact (or worrying about carrying cash!). With PayPal being so accessible worldwide, people everywhere have a better chance.
Does signing up with a fake name make transactions more private? 
Sending money through email used to be a thing of the past, but now it is as easy and anonymous as sending an email. You just need your recipient's address for him or her to see the funds in seconds!
Don't worry about giving out your credentials because you can use fake emails with phony names so that no one will know where any transactions are coming from – including yourself.
Is it possible to be completely anonymous while sending money over the internet?
Because every trade is generally a two-way agreement, it is not always feasible for the payment to be completely anonymous. For example, you will be required to submit your delivery address when purchasing anything from an online merchant, which implies that you will be asked to verify your identification. To enroll for the service, you must provide some kind of identification.
Various forms of payment provide varying degrees of privacy, so it's a good idea to try out a few to see which plan or company is incognito for online or offline purchases. Monero MXR is, in my opinion, one of the greatest anonymous services that may benefit you.
Can I send money anonymously via CashAPP?
The cash app is a good source of sending money anonymously. The central aspect is that you will have to enter the username, and you do not have to enter the bank account number, which makes it pretty discreet.
The issue with this software is that it has a $250 sending limit, which can only be exceeded by authenticating your identity, therefore nullifying anonymity.
Conclusion
Anonymous sharing of anything is a great virtue and makes us feel good. When you have money but don't know how to send money anonymously in a bad financial situation? In that kind of dilemma, due to pride, many feel shy to take the help of others. So, that's why many helpful platforms offering services in sending money anonymously online or using different cards will help you deal with these financial situations.
Spending and sending money on these platforms is easy, but that requires a price. The price is in the form of our privacy. The most convenient and easy way to send money anonymously is online. This is the most-faster option you can go for. Other than that, to send money online, you will need to create a fake email address.
Personal Opinion
There are moments in our life when we do not want praise for our actions. There are other instances when we don't want any attention, even though receiving praise from others should never be the motivation behind our charitable acts. Perhaps we do it for safety, but more often than not, we do it because we want to bless someone without expecting anything in return.
Giving gifts anonymously is a high degree of generosity since it avoids resentment from the recipient by not making them feel they must repay the favor. You only bless a person, group, or cause, then observe how they utilize the money or gift from a distance. So, the above tips on how to send money anonymously will aid you immensely.