Disclaimer
Information presented on this web page is intended for informational and educational purposes only and is not meant to be taken as legal, financial, investment or tax advice. We do not accept any responsibility for any trading or investment related losses. Please review our disclaimer on before taking action based upon anything you read or see.
Individuals are asking the inevitable question now that you're engaged: When is the wedding? One of the most crucial things you can do is establish your budget after taking time to relax and soak in your bliss. What budget do you have for this momentous day? Will any family members assist you? Or will you and your future husband cover all the costs associated with your wedding? First of all, it has to be clarified and discussed the most. You must understand how much this occasion means and what it has accomplished. Thus, we have made this post on the free wedding budget calculator to aid you.
You may use this calculator to plan your wedding budget. Your wedding expenditures, including quotations, payments you've made, and actual costs, may be readily itemized. They are divided into groups to keep track of where their money is going.
Not sure where to start when planning a wedding? You'll need a hint and the Free Wedding Budget Calculator, however. Here's the best way to use this calculator, plus some useful advice on calculating your wedding budget. Come along!
What is a Wedding Budget Calculator?
You may use a tool to determine the cost of a wedding by using the wedding budget calculator. Before a wedding, things may become hectic and exhausting. As the days preceding the big event pass, you could start to doubt if you've done all you can and allocated enough money.
You may keep organized and learn how to prepare a wedding budget with the aid of this calculator for wedding expenses. The tool lets you see the breakdown of the wedding budget and, in the end, determine your average wedding cost per guest.
The processes you take to arrange the budget for your wedding are quite similar to the ones you take to plan the budget for your home. Consider the money you wish to spend on the ceremony as a first step.
The second stage is to meticulously list every expense, which might be challenging. It will be much simpler if you go through it step-by-step with our wedding budget calculator.
Additionally, in addition to being a calculator, this also functions as a useful wedding budget planner. This is true since it lists numerous things that need to be done before the wedding and serves as a to-do list so you can concentrate on the important elements.
Free Wedding Budget Calculator
Why you need a Wedding Budget Calculator
There is no lack of things to consider while trying to arrange a wedding. Everything from the major considerations, like the venue and number of guests, to the little ones, such as the cost of the catering and the DJ, may be daunting.
Fortunately, all of those concerns are your responsibility alone. You may assess your financial responsibilities for the big day with a reliable budget calculator for wedding expenditures. You may use the calculator to estimate the price of your wedding. These calculators are useful for budget planning and decision-making for your special day.
Many individuals use these tools for a variety of purposes. Here are a few examples:
To be prepared
You and your fiancé may use a wedding budget calculator to assist with wedding planning. You may see what you need to spend on certain wedding-related costs and how much you can save by avoiding others. The calculator also displays your previous spending so you can see where you are financially before agreeing to any new expenses.
To determine costs
There is constant discussion over how much money should be spent on a wedding. No one is certain of the right answer regarding how much individuals should spend on their weddings. There are a few ways to evaluate your expenses to decide whether to make sacrifices or scale down your ambitions.
With a budget calculator, you may calculate how much money you'll need for your special day. In this manner, you can select whether to use the extra money for other things like honeymoon excursions or presents for family members who supported you throughout the preparation process.
To ensure that nothing is overlooked.
You don't want to be in a last-minute financial bind because anything fell between the gaps. A budget calculator will provide you with the exact amount needed to pay for each cost, ensuring that nothing is overlooked. To avoid surprises, you may use this tool to ensure that every item on your list has been taken care of before you hire any vendors or make any payments.
To look for ways to save costs.
Many couples struggle with where to spend their money while trying to save for their wedding. The calculator can show you precisely where every dollar should go and if there are any areas you could completely leave out without affecting the event's total cost. This makes it easier for you to track how much you spend on each element and how much money is left over after you've paid for everything needed for your big day.
How much to Charge helps Wedding Planners
Vendors that wish to know how much they may charge for their services might also benefit greatly from the calculator. It helps them assess whether or not it is feasible to supply those services at that pricing by indicating their budget.
Benefits of using a wedding budget calculator
Why give up your wedding if you love to do things responsibly with money? You need a wedding budget calculator if you're getting married soon and are already planning the big day. The calculator assists you in making better plans since marriage is a costly endeavor that costs you a significant sum of money. This is true to ensure you have enough money before or after your big day.
Additional advantages of using a wedding budget estimator are as follows:
You may avoid the time-consuming manual calculating method.
It assists you in effectively planning your wedding budget.
The wedding cost is quickly computed, giving you a clear idea of how much you must put down each month or all at once.
Using a wedding budget calculator, you may avoid seeking advice from a financial professional. This is legitimate since it provides the precise profits you may anticipate based on your investment.
You may modify your investment age and wedding costs in the calculator to determine the profits you can anticipate at various stages.
Estimate the Needs of your Wedding 
It's a smart option to stick to an estimate and complete the tasks outlined in the correct sequence while figuring out how to organize a wedding. There is a method to this madness, and following a wedding planning checklist will make the process easy and less stressful. The following is an excellent approach to gauge your wedding's needs: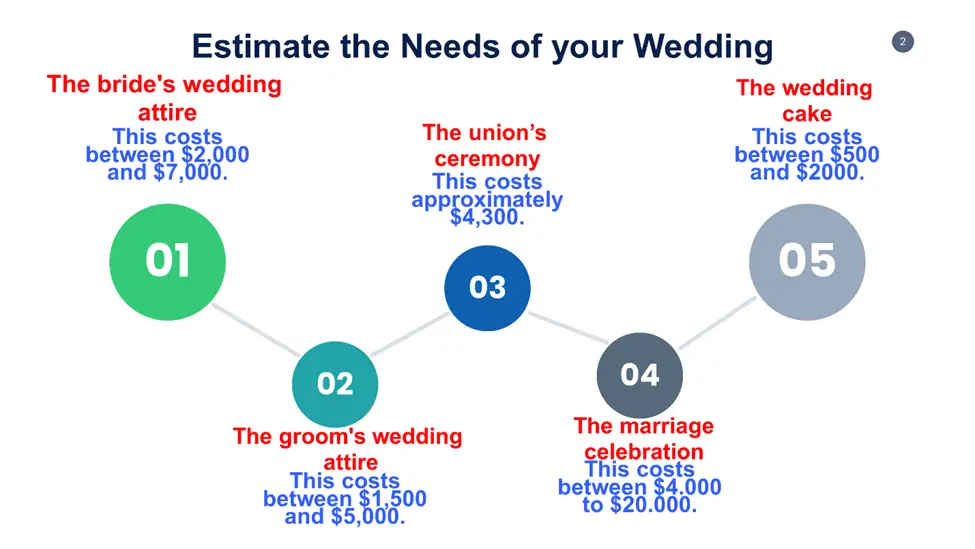 The bride's wedding attire
One of the most significant purchases a lady makes on her wedding day is her wedding gown. It typically attracts attention, not only on the big day but also in all wedding-related photos. This includes other items like wedding jewelry, cosmetics, and shoes.
The typical cost of a wedding dress in the US is between $2,000 and $7,000. This amount might change greatly based on the dress, shop, and region.
The groom's wedding attire
Of course, a dashing spouse must accompany the bride during the wedding. The bridegroom should also seem his best.
Typically, a groom dons a tuxedo or a suit. The level of formality and the venue will determine the appropriate attire. A suit is more acceptable for less formal weddings, whereas a tuxedo is often worn for black-tie affairs.
Even while the groom's attire is seldom as costly as the bride's, it may still be a significant expenditure. You may anticipate spending between $300 and $600 if you want to purchase a wedding suit or tuxedo. Be prepared to pay anything between $1,500 and $5,000 besides the shoes, underwear, and wedding ring.
The union's ceremony
The conventional portion of a wedding is the ceremony, during which a celebrant legally weds two individuals. These are some common requirements in this category:
The officiate Between $250 to $750.
The marriage license: Between $50 to $150.
Donations to the church: $300 to $1000.
Wedding ceremony location: $250 to $1000 per hour.
Décor: $250 to $1,000.
Live music during the wedding: $200 to $400 per hour
The total here is approximately $4,300.
The marriage celebration
Following the wedding ceremony, a reception is given to honor the newlyweds. Those invited to the wedding come to individually greet the newlyweds and present them with gifts.
Based on the number of guests, the venue choice, and the cost of the food and beverages, the typical US wedding reception costs vary from $4.000 to $20.000.
The wedding cake
The bride and groom slice the wedding cake together at the wedding reception during the ceremony. It's a long-standing custom that is both enjoyable and lovely.
After the wedding ceremony, when everyone has gathered for the celebration, the newlyweds traditionally cut the wedding cake. Or later in the day, when the reception meal or buffet dessert course begins.
The cost of a wedding cake is influenced by some elements, including size, taste, design, and decorations. Count on paying somewhere between $500 and $2000.
Expert Opinion
The largest party you'll ever host will likely be on your wedding day. It's simple to declare that you'll stay to a wedding budget, even if you swear by your wedding planner, as it is with anything.
With venue charges and a food bill to pay, you can spend more than you anticipated on your wedding budget. Since we've been there, we understand what you're thinking and worried about when it relates to your wedding and the wedding expense.
But keeping track of everything and saving for it simultaneously is more feasible and simpler than you would imagine. Only a little planning and the free wedding budget calculator are required.
References