Disclaimer
Information presented on this web page is intended for informational and educational purposes only and is not meant to be taken as legal, financial, investment or tax advice. We do not accept any responsibility for any trading or investment related losses. Please review our disclaimer on before taking action based upon anything you read or see.
The best business credit cards usually arrive with different advantages, such as discounts or frequent flier miles. Many companies are also using business credit cards, thanks to the advantages they bring to the daily lives of business owners. Several banks offer this product. However, the features and benefits are not always the same. Therefore, we will explain what this credit card is and show which are the best available. That way, if your company or business firm does not work with one yet, you will understand the product's advantages and choose the one that suits you best. Keep reading the post and check it out!
What is a Business Credit Card?
The Business Credit Card works very similarly to a credit card made for individuals. But the business card, as the name implies, was created especially for companies of other business types. This product aims to cover the institution's expenses, such as travel for work, fuel, employee meals, among others.
The corporate/ business credit card can be used by several employees or just by those managers who choose it. A great advantage is that there is a centralization of expenses in the business firm with it. Consequently, it is easier for administrators to control the cash and observe if any sector or employee spends more than it should.
Best Business Credit Cards: When do you acquire them?
To answer this question, you need to analyze the financial situation of your business or company. Suppose your administrative department is at the stage of separating personal and business finances but has not yet managed to define the boundaries. In that case, this may not be the best time to acquire a credit card for your business. In this sense, the first rule to acquire a good credit card is to control your cash flow.
The entrepreneur who cannot separate his salary from the business profit will not acquire or properly utilize a credit. This is because he will understand credit as an expansion of resources and not as a payment method.  
Without financial education, the entrepreneur will likely end up acquiring debt and complicating his financial life. On the other hand, business cards can help organize expenses, centralize costs, and prevent entries from being left out of the cash flow sheet. 
In addition, it is worth remembering that using a card is usually safer than carrying physical cash. Nowadays, many financial institutions usually send some alert in case of suspicious purchases, ensuring even more security in their operations.
In other words, the business credit card is not a villain. The key is to know how to use it correctly to avoid unnecessary indebtedness. If your company or business firm is getting organized financially, our tip is to opt for a business debit card in this first step.
But if the enterprise already has its finances in order and needs more working capital, it may be time to opt for the business credit card. 
Best Business Credit Cards: What to Consider when Choosing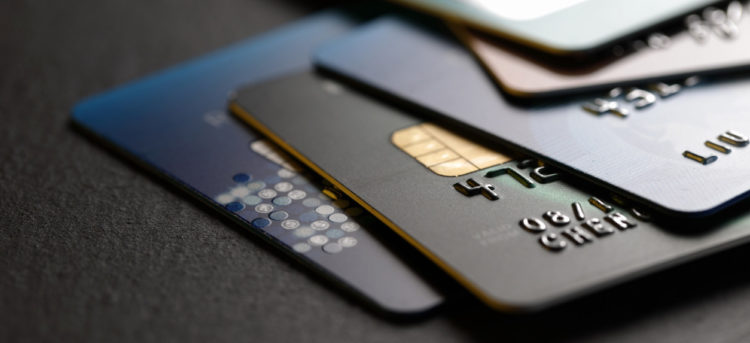 Before choosing a business card, it would help if you consider the following tips as well:
Exemption from Fees
One of the first points to consider is the issue of annuity or monthly fee for the card. Therefore, try to understand which companies offer the least rates and greatest benefits for your business. 
Efficiency in Cost Control
The electronic record of transactions made by the card makes it easy to control your business's cash flow while keeping a history of expenses. This way, all accounts go to the same invoice, which avoids omission when making the payment.
So choose a business card that offers an organized app and hassle-free access to purchase launches.
Lower Interest Rates
We know that the interest charged for late payment of the invoice is usually high. Therefore, it is essential to research which financial institutions have the lowest interest rates and understand applying the revolving interest on the invoice. You will be responsible for settling the bill every month, so it is ideal for planning not to penalize the business with this expense.
Good Service
This criterion is also essential for you to acquire a business card. A fast and empathetic call center can make all the difference when answering questions and providing support in case of any problems you may have with your app or using your credit card. 
Best Business Credit Cards
The idea of ​​all business credit cards is to bring practicality and advantages to the daily life of users. However, each card made available by diverse financial institutions has its particularities. So, now let's see what the best offer for their customers is.
The Visa Gold Business card 
With the Visa Gold Business card, you benefit from greater personalization and flexibility and more peace of mind, thanks to their insurance and guarantees.
The features of the Visa Gold Business card allow you to benefit from:
Facilitated international payments and reduced fees.
Deferred debit, which will allow you to gain cash flow flexibility. You can defer your payments for up to 30 days after the month ends.
Customizable limits: up to $8,000 in payments/month/card and up to $3,000 in withdrawals per week.
Access to the Visa Business service, available 24/7.
Access to partner offers and preferential rates. If you wish to rent a vehicle, you can also take advantage of a 30% reduction in more than 250,000 hotels worldwide.
The Visa Gold Business card further gives you access to guarantees and insurance on your business or private trips and eligible purchases. You also benefit from an emergency service in the event of loss or theft of your card.
American Express Business Card
This is already one of the most coveted credit cards for businesses in the market. However, with the advancement of technology, other Institutions have managed to achieve the efficiency of Amex and tend to offer better or similar advantages.
For every $1, the customer earns 1 point in the credit function. With this card, it is also possible to buy airline tickets and also redeem products or services with an annual fee of approximately $250. Other benefits that stand out with The American Express Business Card are travel insurance and luggage, and car insurance.
Revolut Business Card
Offered by another of the best Fintech firms, this business credit card has several advantages for its management without paperwork or transfers. Through a mobile application, you can manage the card with custom designs and set spending limits. You can also put up restrictions and validations, as required for each employee. 
Furthermore, you can associate each card with different multi-currency accounts to make international payments free of commissions. You can also connect several cards to a single account when operating mostly in the U.S. The Revolut Business Card is a financial product also accepted worldwide, with a commission for currency exchange of between 0.5% to 1%.
Sabadell Business Credit MasterCard
Designed for both the employer and the workers, you can personalize this business credit card according to the requirements for each employee (limits, validations). Accepted all over the world, it has various business travel benefits. This includes a 24-hour help desk, accident insurance, coverage for medical expenses abroad, luggage search and location service, and insurance for loss or damage, among others.
This business credit MasterCard further allows the payment without interest the following month of the purchases or its deferral with payments in installments. This usually comes with an interest surcharge. It also has an online platform where it is possible to check the movements of the last 18 months of each card, select movements by different criteria, among other facilities.
Frequently Asked Questions
Is a business credit card worth it?
As earlier highlighted, the business credit card is worth it due to the benefits highlighted above.
Can I use business credit card rewards for personal?
You can use business credit card rewards for personal trips, as most rewards aren't taxable.
Can my LLC get a credit card?
Your LLCs can get a credit card. To do this, you will need to submit an application using your Employer Identification Number (EIN) or business tax identification number (TIN).
Does a business credit card check personal credit?
Business credit card firms can check personal credit if they deem it necessary.
Is it hard to get approved for a business credit card?
You can easily get approved for a business credit card if you have a good personal credit score and some business income. 
Can I use my EIN to apply for credit?
You can use your Employer Identification Number (EIN) to apply for credit.
Which credit card has the best signup bonus?
The credit card which has the best signup bonus is the Chase Sapphire Reserve® card.
Conclusion
In conclusion, the business credit card is a great ally when it comes to handling corporate expenses. This card type further comes with diverse merits when you make the best choice, as highlighted above.