Disclaimer
Information presented on this web page is intended for informational and educational purposes only and is not meant to be taken as legal, financial, investment or tax advice. We do not accept any responsibility for any trading or investment related losses. Please review our disclaimer on before taking action based upon anything you read or see.
Today, many people usually try to learn how to close an Ally account. Thus, we have made this post to aid them. A division of Ally Financial Inc. is Ally Bank. Additionally, it is a comprehensive online bank that provides 24/7 customer service, low fees, competitive rates, and no minimum balance prerequisites. There are numerous banking options in the USA. Because of this, Americans frequently change their bank account if they are unhappy with the bank's service.
Ally Bank has been around for a while, and to better serve their customers, they have increased the range of services they offer. Although it's ideal to remain with the same bank throughout your life, there are times when closing a profile is the only choice. Thus, this post on how to close an Ally account will be indispensable. Come along as we highlight this below.
What is an Ally Account?
Ally Bank is a comprehensive online bank offering competitive prices, reduced fees, no thresholds, and 24/7 support. Ally Bank is the virtual banking business of Ally Financial Inc. This was established in 2009 and has its headquarters in Sandy, Utah. Ally Financial Inc. has been around since the 1920s.
Like other financial institutions, Ally is appropriate for customers who feel at ease doing banking activities on a pc, tablet, or portable device. Ally offers mortgages, car loans, personal loans, investment services, and certificate of deposit (CD) facilities. This is in addition to checking, savings, and CD accounts.
Reasons to Close Your Ally Account
For several reasons, many individuals shut their Ally bank accounts. If any of the following take places, you could choose to terminate your Ally bank account: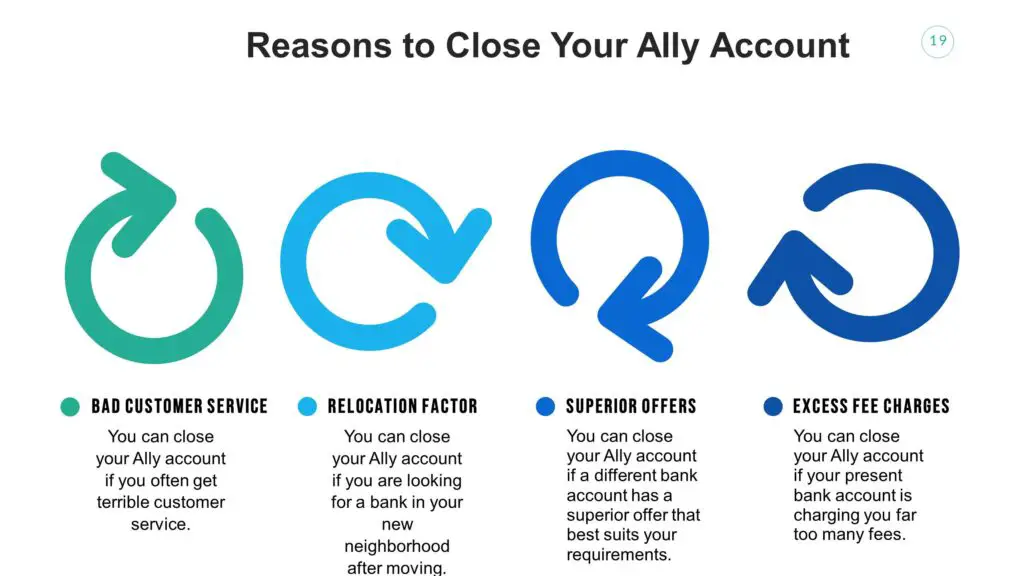 You often get terrible customer service.
You are looking for a bank in your new neighborhood after moving.
Your present bank account is charging you far too many fees.
A different bank account has a superior offer that best suits your requirements.
Types of Ally account
The Major Types of Ally accounts include:
Ally Online Savings Account
The Ally High Yield Savings Account 
Ally Bank Interest Checking Account
Ally Money Market Account
Ally certificates of deposit (CDs)
Essential Steps to Take Before Closing an Ally Account
Contacting your bank is only one step in closing an Ally bank account. To guarantee a smooth transition, you should put in some advance work. Generally, adhere to the following steps:
Establish a New Account
First and foremost, you must create a new bank account. You can confidently transmit direct deposits, payments, and debits by setting up an account.
Savings rates, fees, and account options are a few aspects to consider when selecting a new bank. Whether you choose an online or conventional masonry bank, ensure your new account is set up before continuing.
Change Your Current Scheduled Deposits and Repayments
Direct any automated payments or deposits in your Ally bank account to the new account. If there are any forms you need to complete for direct deposit, check with your employer. Your paycheck may get redirected to the new account since this is legitimate.
Depending on your loan's length and monthly income, you can choose different repayment plans. For example, if you have a graduated student loan, you might be eligible for a low-rate plan. To calculate the right repayment option for you, use our calculator.
Make a list of your recurrent monthly expenses yourself. This could comprise:
Club memberships 
Automobile
Mortgages
Health coverage
Student or consumer lending
Streaming subscriptions
Utilities and other home expenses.
By making a list, you may ensure you've stopped all payments related to your Ally account. But when the time comes to set them up for your new bank account, you'll also be ready.
Move Your Funds
Please wait for any pending transactions to settle before transferring funds out of your Ally account. If you don't, you can have to pay overdraft fees. Once everything is settled, take any remaining funds out of the account or move them to your new account.
If your bank account has a reserve ratio restriction, only withdraw funds when you're prepared to cancel the account. This is true; you won't be billed monthly maintenance costs.
How to Close Ally Account
Procedures to close Ally bank account:
There are mainly two methods to close Ally bank accounts, which I searched from the official website of the Ally bank. You can use any one of them to opt, according to your convenience, to close down the account. These are both offline methods, as no online methods are available to do this task.
A. By contacting customer service
To terminate your Ally bank account, contact customer service and do the following actions:
You must contact Ally Bank's customer service at 1-877 247 2559.
An Ally bank customer service representative will take your call after a brief delay.
At this point, inform the executive that you want to cancel your Ally Bank account.
To determine if you are the valid owner of the checking account or not, the bank executive will ask you a few verification questions concerning the account.
You must accurately respond to each question.
The executive will ask you why you wish to terminate the bank account once you have responded to all the questions.
Describe your reasons for canceling your Ally bank account to the bank management.
After hearing your justifications, the executive will approve your request to shut the bank account, and they will take the appropriate actions to end your Ally bank account.
B. By Sending a Written Request
The following methods allow you to issue a written request for Ally bank to terminate your account: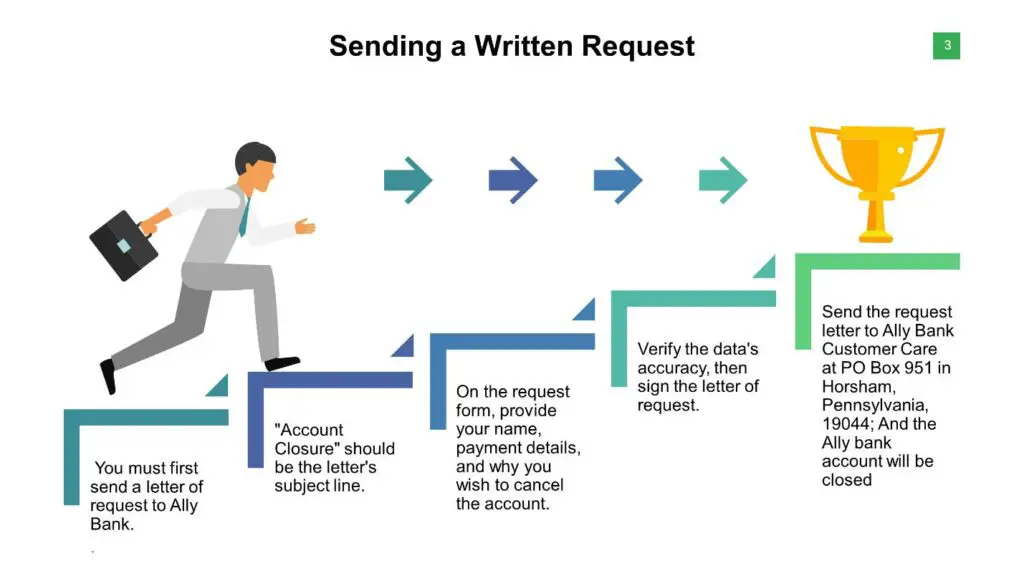 Frequently Asked Questions
Is there a fee to end an account with Ally?
If you do not want to be penalized for quitting a basic savings account, you must pay for additional accounts, such as cash. You must pay an early withdrawal fee if you remove all the money from a deposit account before the maturity date.
Is it possible for me to terminate my Ally bank account online?
Yes, you choose to shut your ally bank account online, in person at a local branch, or over the phone, according to your particular preferences and your bank's policies.
Is it true that canceling an Ally bank account would harm your credit?
The information in your credit file is the foundation for calculating your credit score. While establishing or closing an Ally bank account does not impact your credit score, canceling a credit card account does.
Are there penalties for closing a savings account?
If you plan to close the saving account, the bank may charge closing fees with the time passing between the funds, withdrawal, and the actual closing.
Is Ally a good bank?
Yes, ally is a good bank. It offers competitive interest rates, landing above the best online banks, and is recognized among the best online saving accounts, CD rates, and money market accounts.
What is the procedure for canceling my Ally automatic payment?
Log in and choose the balance on auto-pay—then activity from the list to stop the automatic payments. Choose Modify payment information, stop payment, or terminate a deal from the drop-down menu.
Is there a minimum balance required in Ally's savings account?
An ally savings account does not demand a minimum balance or a monthly charge.
Can I close a bank ally account over the phone?
Yes, you can close a personal or business bank account over the phone, as it is the best way to ensure that you closed your account correctly. 
What happens when you close an Ally bank account?
When you close your ally bank account, it does not hit your credit score.
What is the cost of closing an Ally bank account?
The IRA account must be closed for a fee of $25, which is levied after all monies have been removed. This cost may also be thought of as a cancellation fee. When you move money from one account to another, a partial account outbound transfer fee of $ 50 is charged. 
Conclusion
So this was all about how to close Ally's account. But keep in mind that you should be very careful in providing information about yourself, like your ID card number, correct name, and account number, while writing in the written request letter. The process will take some time to give you a response from the bank. I hope that information provided in the article will be helpful to you.
Author's Personal Opinion
Despite having roots dating to 1919, Ally Bank is still useful to consumers. Ally initially provided vehicle loans but has now expanded to include checking and savings, investing retirement accounts, and mortgages. However, there are times when you may need to cancel your account.
A few factors must be considered when a checking or savings account is closed at Ally bank. Thus, the tips above on closing Ally's account will aid you immensely.
References