Disclaimer
Information presented on this web page is intended for informational and educational purposes only and is not meant to be taken as legal, financial, investment or tax advice. We do not accept any responsibility for any trading or investment related losses. Please review our disclaimer on before taking action based upon anything you read or see.
Can you Cancel a Bank Transfer After it has Gone Through?
The short answer is Yes, it's possible to cancel a money transfer, but you must check your contract and receipt and contact the company immediately if you want to do so.
There are a few reasons why you need to cancel your bank transfer. For example, you may have found a better deal for the same product or service and want to cancel your first order so that you can place the new one. Another reason could be that you didn't know about the transfer, which was done automatically by your bank, and now you want to cancel it.
If you want to cancel your bank transfer, it is more complex than canceling a credit card transaction. There are some exceptions where you can cancel a bank transfer after it has gone through in the US.
Reasons for Bank Transfer Cancellation
If the bank account is closed due to fraud or if the account holder is deceased, then the recipient of the funds may be able to request cancellation of the transfer.
If you have been contacted by a debt collector requesting that you repay an outstanding debt, then they may be able to request cancellation of the transfer.
In case, there is an error in your account information and this error results in an overdraft or other fees being incurred, then you may be able to request cancellation of the transfer.
If a change in legislation impacts your ability to make international transfers, then you may be able to request cancellation of the transfer.
If there was a technical error when making the transfer, then you may be able to request cancellation of the transfer. If none of the above items apply, you will need to contact your bank and ask them to cancel it.
What is the procedure to cancel a bank transfer after it has gone through?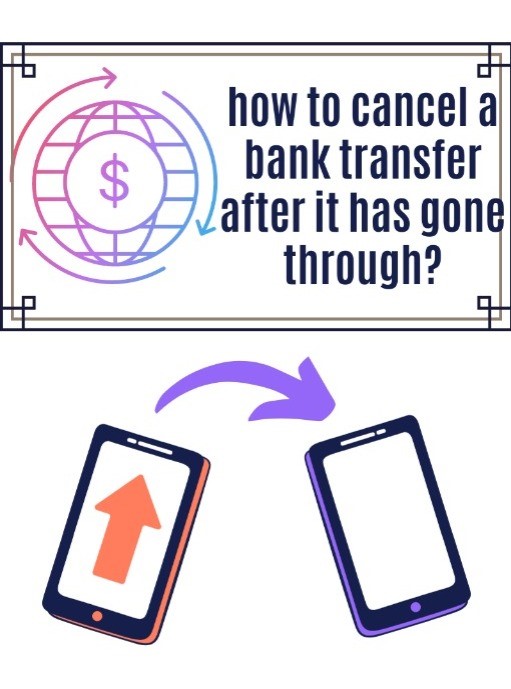 Step 1:
The customer must report the error to the bank to cancel a bank transfer. For example, they should contact their bank as soon as possible if they sent money to the wrong account or made a mistake while typing in account information. The sooner they report it, the more likely it is that the bank will be able to stop the transfer before it's too late.
Step 2: 
Contact the receiving institution and request a reversal of credit and debit entries. If the recipient agrees, the funds will be returned to your account in 3-5 business days.
If the recipient does not agree, or if it was an online purchase already delivered, you need to contact your card issuer and request a chargeback.
Step 3: 
The customer will receive an acknowledgment from the bank within 5 working days of receiving the request. That can be in the form of an email or a call asking for details.
Step 4: 
Bank will investigate the cause of the failure. They will then be asked for their name and address and any other information that may be required for the investigation. In some cases, they may need to provide evidence of what went wrong with the transaction. They will be reimbursed if an error is discovered on the customer's or account holder's part.
Step 5:
The bank will usually make this correction after they complete their investigation into why the transaction was made in the first place. This process can take a few weeks before they can correct it. Until then, you wait for the bank to wind up quickly so you can be refunded.
Step 6: 
If you cancel a bank transfer that has gone through, you must check your Corrected Electronic Record (CER) before it is sent to SET MSB. Here's how you can check the CER and see if the cancellation was successful. 
Log in to SET MSB. 
Click on the "transactions" icon, then "transactions" from the drop-down menu. All your transactions will be listed in order of processing, completion, and cancellation, as well as those still pending.
Once you find the transaction you want to cancel, click on it – it will take you to a new screen with an options bar for canceling a transaction.
Step 7: 
If an error is detected in the records, the customer has 14 days to dispute the incorrect entry in CER. The customer has to notify their bank and present evidence of the error. If there is no response from the customer within this period, it will be assumed that they have accepted that transfer, and all rights will be lost.
CER is the acronym for "Credit Exposure Report." It is a report that shows the amount of risk a bank faces from lending to a customer or company. The CER includes:
The total exposure for all loans, including the current exposure and any potential future exposure;
The total exposure for all guarantees, including the current exposure and any potential future exposure;
The total credit risk capital requirement (CRRC);
A summary of how much CRRC has been allocated to each country.
This report is useful as it helps banks in managing their credit risk.
Step 8: 
Banks are required to notify the customer and MSB of any changes in the transfer status. Banks will release funds to respective customer accounts as soon as the MSB receives no objection from the customer. 
Bank will release the funds to the recipient account when they receive an objection or a cancellation notice from the customer. 
The MSB is usually a bank employee. But it may also be an external agent such as an accountant or lawyer. MSBs are authorized to undertake all activities related to a customer's banking account and transactions.
Expert Opinion
If you want to cancel your transfer, you can do so within 60 days of initiating it.
A transaction reversal is when a credit or debit entry is reversed. A reversal can happen for various reasons, such as:
The transaction was authorized by mistake
The recipient has returned the product or service
you have canceled the original order and want to cancel this payment too.
The recipient has denied authorization for the transaction.