People use cryptocurrencies now more than ever. One article from the New York Times even said, "we're all crypto people now," which makes sense as beyond trading, some people also use crypto for day-to-day transactions such as remittances, dining, shopping, availing services, and more. Also, some companies and businesses already use crypto for salaries, investment, payments, and more. In this guide, I will talk about how to easily send crypto.
More and more users are looking for the easiest ways to send or pay in crypto—those that don't have to deal with long wallet addresses, destination tags, and other things that may lead to an error or cause delays. If this sounds like you, read on as we've discussed the most popular ways to send crypto to friends, merchants, and other users, and provide a step-by-step guide on how you can do it the easiest way possible.
Why Send Crypto Instead of Cash?
Crypto is digital, so sending coins and tokens can be as easy as sending an email with the right platform. And unlike fiat currencies such as the U.S. Dollar and Euro, crypto assets are not administered by banks or the government and do not have physical borders. Therefore, you can facilitate cross-border crypto transactions as if you're transacting with someone next to you.
What Are Different Ways to Send Crypto? 
There are several methods you can use to send crypto to another user. Some of the most popular ones are as follows:
Transfer crypto from an exchange to a crypto wallet
The traditional way of sending crypto is by withdrawing assets from a spot exchange and using the recipient's crypto wallet as the destination of the assets. When withdrawing assets, crypto exchanges usually require the destination's wallet address, network type, and/or memo or destination tag.
However, it's good to note that not all crypto assets can be easily bought in spot exchanges because of limited trading pairs. Some assets may require you to buy a fiat currency first, convert it to a stable coin like Tether (USDT), and then convert it to the crypto you'd like to send before sending them.
Send crypto using a P2P crypto payment app.
There are an increasing number of crypto payment apps and app users, which is not surprising, considering that crypto payment apps require fewer steps to complete a crypto transaction. For instance, Kasta, another crypto payment app, allows users to send crypto to another user simply by scanning a QR code or using a phone number.
Sell crypto in a peer-to-peer (P2P) marketplace.
Some platforms and exchanges have a P2P marketplace where users can directly sell or buy crypto for zero or minimal fees. You can use the sell option on the marketplace to send crypto to another user.
Crypto gift cards
Some platforms sell crypto gift cards, which you can also use to send crypto to someone. You just have to choose a platform that offers your chosen crypto, buy a gift card worth the amount you'd like to send, and receive the gift card through your email, wallet, or other available means.
Just like the usual gift cards work, the recipient can claim the gift card by following the instructions, usually by going to a link where they can enter the details on the card.
How to Send Crypto Fast and Easy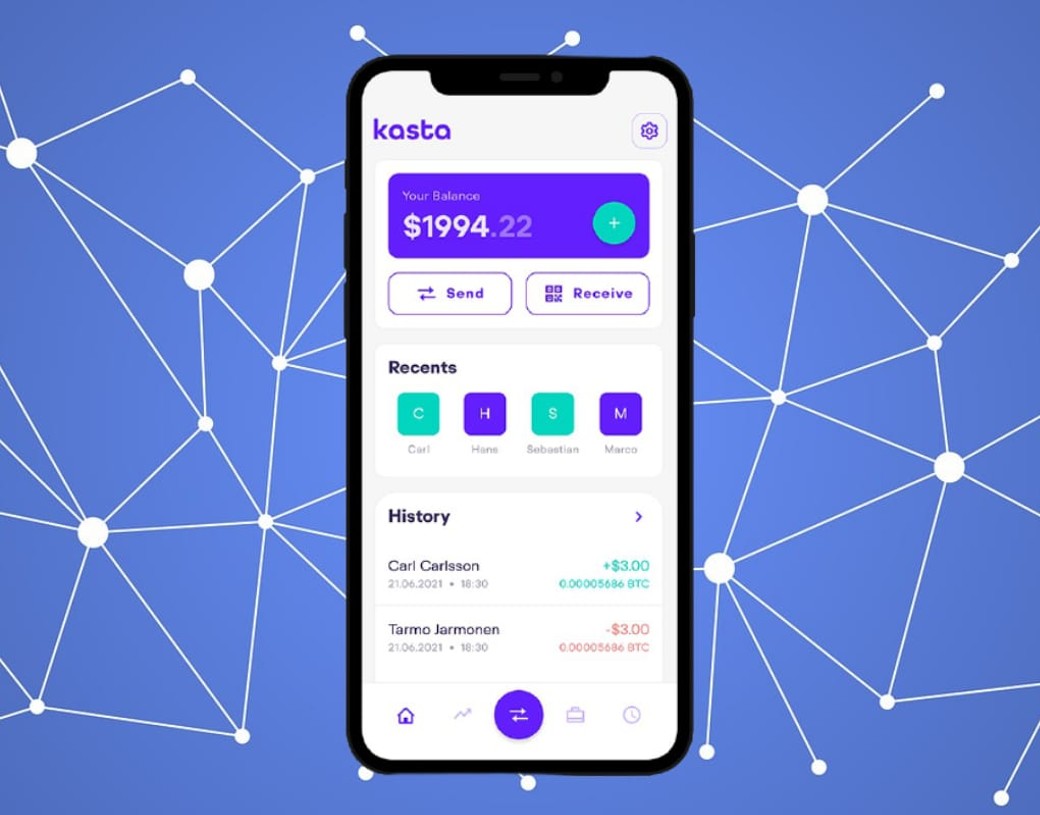 Among all the methods available, the easiest and fastest way to send crypto, as of writing, is through a crypto payment app. Let's use the Kasta app as an example in providing you with a detailed step-by-step guide.
Sample situation: You asked a friend to buy you some perfume overseas. They agreed but said they prefer to receive the payment in Bitcoin. You are Kasta app users, so you agreed to send the payment using the app. Here's the process:
Log in to the Kasta app.
If you don't have enough Bitcoin, do the following:
Click the "Add Funds" button on the home page.
Click "Deposit from a wallet."
Choose Bitcoin and click "Copy" to copy your wallet address.
Withdraw Bitcoin from your external wallet or exchange by pasting your Kasta wallet address.
If you have enough Bitcoin, click the "Send" button on the home page.
Enter the phone number that the recipient used on their Kasta account or scan/upload their Kasta QR code.
Choose "Bitcoin" and enter the amount you want to send.
Enter your pin code to confirm the transaction.
The other user would receive the crypto payment if the transaction were successful.
What if the recipient is not a Kasta user?
Only those who've joined the Kasta app's waitlist or have been referred by a current Kasta user can use the Kasta app. But if the recipient has not yet registered to Kasta, you can still send them crypto using the app's "Withdraw" button.
Go to the home page of the Kasta app.
Click Bitcoin.
Click the "Withdraw" button.
Paste the Bitcoin wallet address of the recipient.
Enter the amount you'd like to send.
Proceed with your pin code to confirm the transaction.
How much are the transfer fees?
Kasta app users can send the same currency (send Bitcoin and receive in Bitcoin) for free. However, the app will charge exchange fees if the recipient wants to receive a payment in another currency using the Easy Swap Engine feature.
Swap costs may vary depending on several factors, including the amount of token being sent, the type of crypto asset, and whether you've locked up Kasta tokens in the app or not (those who staked Kasta tokens can enjoy certain exchange fee discounts).
Final Thoughts
There are several options to send crypto to another user easily. Before choosing which platform or method to use, be sure to research several factors, including security, convenience, UI/UX, and the turnaround time of transactions, to name a few.
I am Lavinia by name and a financial expert with a degree in finance from the University of Chicago. In my blog, I help people to educate by making wise choices regarding personal investment, basic banking, credit and debit card, business education, real estate, insurance, expenditures, etc.