Today, there are various advantages to working as a Credit Card Processor Representative or Merchant Account Sales Representative. They include recurring revenue, the option to operate for yourself, and the opportunity to pick and choose your clientele. As a result, we've put up this guide on how to become a credit card processor to assist you.
While beginning a payment processing company might be profitable. It would help if you did it with caution. If you don't have sales experience, you'll have to take extra time to learn what sets successful payment processing representatives apart from those that fail. If you're new to credit card handling, you'll need to brush up on the basics of the consumer services sector.
What Is Credit Card Processing and How Does It Work?
When a client swipes a credit card, various behind-the-scenes processes take place in seconds. A payment process starts when a cardholder inputs, swipes, plugs, or punches a credit card. The processing gets finished when the transaction says "authorized" or "declined," and the process completes.
Additionally, credit card processing involves several parties. They are as follows:
Account holder:
Thrusts, plugs a chip card, touches a tap-to-pay card, or types a card details into an online payment gateway.
Merchant:
Any retailer or vendor selling products and services get referred to as a merchant. Customers swipe their cards and pay service charges to the bank or card provider using a card machine provided by the merchant.
Merchant bank:
The acquiring bank (also known as the merchant bank) is responsible for sending the card and transaction data to the card network. The financial institution may also offer the merchant credit card processing equipment and a payment processor to receive cash.
Card network: 
The card network (such as Visa or MasterCard) links the purchasing and issuing institutions. It exchanges data and establishes fees or standards between the acquirer, issuing credit union, and merchants.
Issuing Institution: The financial institution is the one that gave the client the credit card. It approves card information, pays the purchasing bank, and bills the client monthly for each activity.
How to Become a Credit Card Processor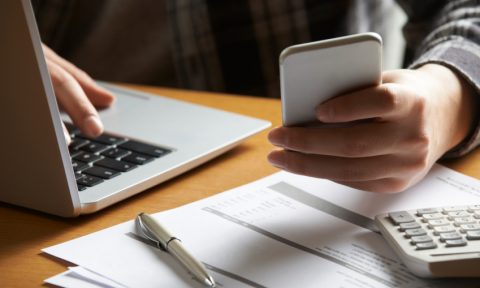 When attempting to become a credit card handler, your revenue will be dependent on your ability to acquire and retain new customers. As a result, it's up to you to maximize your potential after you've jumped in.
The stages to establishing a successful credit card processor are as follows:
Choose a specialty.
Starting a card payment company without a niche is a poor idea. To land customers, you must first understand their business environment and then suggest a solution based on the specific situation.
Imagine yourself a merchant processing consultant who can also help with the migration or opening of a business account. You should meet your client's needs, and newbies are often mistrusted.
So, what's the best way to choose a niche? Begin by thinking about your previous experience and geographic location. Do you live in or near Chicago and have ten years of food experience?
Superb, Food delivery must be at the heart of your operation, and you must make the most of it. Have you earned a law degree only to discover it is not for you? Can you utilize it to your advantage?
If you're unsure what industry you would like to operate in, look around your area to discover what companies are succeeding. Do you have a lot of B2B IT companies in your region that are expanding and moving?
Merchant solutions are useful since they accept payments from anyone. So look around to see where your abilities and the marketplace intersect.
Become a specialist in credit card transactions.
Begin with the fundamentals of credit card processing if you have no prior experience with payment processing. This should include information such as how transactions get handled, the link between providing and acquiring institutions, standard hardware, etc.
You must model your method after Elon Musk's concept for dissecting and discovering new subjects using a semantic tree if you aren't acquainted with it.
After you've figured out how the sector got started, where it is now, and where it's going, you'll need to figure out what part you'll play. This is on top of your position inside the merchant services industry.
In other words, you'll act as a go-between for a merchant and a merchant processing supplier. This role may be performed by an approved "independent sales group" supplier.
As distributors, you and your ISO will work together. You'll purchase "wholesale" merchant services rates (also known as buy rates) and distribute them to companies. It's your role to demonstrate why the merchant should transfer providers and assist them in setting up their new accounts.
This is in addition to helping with paperwork, applications, and other administrative tasks. Where you earn your money is the gap between the cost you can receive from MSPs and the amount you propose to your merchant.
That figure may also quickly pile up. If you can get 10 of them, you'll be making around $8,000 per year in royalties. And as these firms expand, so will your residuals.
It's time to tailor those services, sorts of MSPs, and their offers to YOUR niche after you've grasped the world you'll be working in. You must know what the most acceptable options for your sector are. This is in conjunction with having the correct ISOs and MSPs in place.
Compare and contrast ISO/MSP routines
Many ISO/MSP applications are functioning in every industry conceivable. And they all take a different strategy for dealing with merchants and payment solutions agents.
You must be attentive in this area, so don't take shortcuts. When evaluating sales programs, keep the following characteristics in mind:
A. Verify if they have prior expertise in your field: Are they involved in their neighborhood? Do they have a defined purpose and a proven record? How do they handle their business partners? Remember that your reputation gets inextricably linked to theirs, and you'll be dealing with them for years.
Do they have the most up-to-date products? Consider hardware, software, and other factors: Are they see-through? In the merchant processing market, there are several hostile actors. You'll also need self-assurance while defending your MSP to the retailers you is assisting.
Look into their distribution agreement in particular. What's the compensation/purchase rate like? Do they have any say on your regressions? What services do they provide to their partners? Clarify what you're putting yourself into.
Prevent MSPs that require a monthly threshold and impose startup costs: What is the status of their legislators? Contact the team and see whether you get along with them or if they wow you. That's the same mentality you'll be instilling in your vendors. As a result, you'll want to look at them from both a supplier and a client standpoint.
Apply to the programs that you want to attend.
So you're a guru in your area, a specialist in money transfer, and you're based in the perfect MSP. Great!
After that, submit your request and wait for the results. If you do your research right and suit their vision and objectives, you will be Ok.
Gather and arrange your company's assets
It's possible to lose control and start pounding on doors. You should have the economic means to back up your offer.
A good MSP organization would give several of these sales materials, but you'll need a few on your own:
Webpage for personal use
Profiles on social media
Protocols for account reporting
Please make sure they're professional and comprehensive. The more prepared you are, the less complicated your task will be.
Begin selling
At this point in your payment processing firm, there's just nothing for you to do but go out and start enrolling shops. Always remember that companies will only listen to you if you make a decent business decision. You'll need essential messaging to support your assertion if you're marketing a higher transaction frequency.
This should include things like better service, less downtime, and additional payment options, among other things.
You can begin with it if you're tossing at a slower tempo. It would assist if you marketed around it; giving the sense that working with you is assisting them in growing their business.
Frequently Asked Questions
Can I become a credit card processor?
Yes. The above tips on how to become a credit card processor will aid you immensely in this.
What is the function of a credit card processor?
A credit card processor functions as a link between your company and the credit card issuers. Whether your company is entirely online or has a local site, you'll need a payment service to accept credit card payments.
What steps do I need to take to become a credit card representative?
The stages to becoming a prosperous merchant services agent are as follows:
Choose a specialty.
Learn all there is to know about credit card transactions.
Evaluate ISO/MSP applications to see which ones best suit your needs and preferences.
Apply to the program of your choice.
Gather and arrange your company's assets.
Begin selling.
Is it possible for me to handle my credit cards?
No. Don't take your merchant account to handle credit cards. Also, despite how well you know a firm or people, never run a payment for them. This is called theft and financial fraud, and card issuers expressly forbid it.
Conclusion
Finally, credit cards provide cardholders with ease. And the trader's and other parties' back-end interaction is outstanding. A treasure of data gets transferred around the merchants in the few seconds it takes a merchant to scan a card and verify a receipt.
This includes the acquisition bank, card operator, and issuing financial institution approving the card data and securing the transaction. Although cardholders are not needed to comprehend how it works, it is beneficial to understand why retailers may impose purchasing restrictions on consumers in their shops or online.
The above highlight on how to become a credit card processor will also aid you immensely here.
I am Lavinia by name and a financial expert with a degree in finance from the University of Chicago. In my blog, I help people to educate by making wise choices regarding personal investment, basic banking, credit and debit card, business education, real estate, insurance, expenditures, etc.