Disclaimer
Information presented on this web page is intended for informational and educational purposes only and is not meant to be taken as legal, financial, investment or tax advice. We do not accept any responsibility for any trading or investment related losses. Please review our disclaimer on before taking action based upon anything you read or see.
Your Wisely® card allows you to track your spending and set goals, but if you want to transfer it from your Wisely® card account to your bank account, you can transfer money from your card by logging in and going to the transfer tab. Then select the account you want to deposit money into, enter the amount you want to transfer, then click 'deposit.' After that, you'll receive a notification when we process your request. We typically take up to 3 business days to process your request. Let's learn in detail how to transfer money from wisely card to bank account.
How to Transfer Money from Wisely Card to Bank Account
Go to the official website of the wisely card.
The first step is to type in "my wisely" in the google search bar. After that, click on "www.mywisely.com."

Create an account and verify the email
Click on the Login button on the top right of the page. It is free, and you can also log in to the myWisely® app7 on your phone.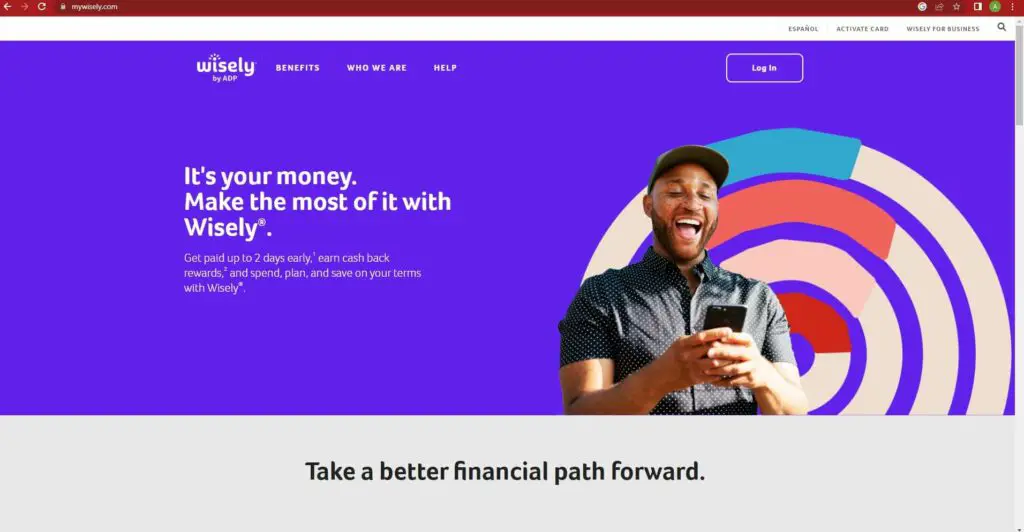 Set a password for your account
Set a password for your account to be made.
Link your bank account with the wisely card
When your account is made, the next step is to link it with your bank account.
Check wisely card balance and limit
Check your balance on the Wisely card. If you have enough money in your Wisely account, you can pay unlimited bills. Is there a minimum or maximum amount that bills can be paid with the myWisely app? A bill payment has no minimum amount. Currently, the maximum amount per bill is $10,000.
Receiving money from the Wisely card
There are some ways to receive money on your card.
Reload @ the Register™: For a flat $5.95 cost plus the amount you wish to load, Reload @ the Register is a service that allows you to load cash of $20-$500 onto your Wisely card at practically all major retailers in your area. Over 70,000 places across the country! Just give the cashier your money. Your card will be instantly filled with money after they swipe it.
Western Union: You can add money to your card at any Western Union spot in the US. Log into your account at myWisely.com to learn more about adding money, or go to https://wiselypay.adp.com/my-card/.
Other Retail Outlets: Several other retail stores like Walgreens and CVS can be visited to load cash on your card. Before loading money onto your card, make sure you can use this feature. You can also visit Moneypak.com, which has more details about replenishing your card with cash.
Send money to your bank account.
Select Transfer Money by tapping or clicking the transfer arrows in the upper right corner.
To complete the transfer, enter your routing number and the account number of the receiving bank or card.
You can obtain your Wisely Pay card's routing and account number by downloading the myWisely mobile app7 or logging in at myWisely.com. Navigate to your account settings and select "Account Numbers." 
Please keep in mind that enrolling and validating an account at another financial institution may take up to three business days. After an account is validated, each transfer may take up to three business days to complete.
Take money out of your bank account using the balance on your Wisely card
The last step is to withdraw cash from your bank account using your Wisely card and enjoy it.
Frequently Asked Questions
How long does it take to transfer funds from your Wisely card to your bank account?
Converting your money can take up to three business days, but this is extremely rare. Additionally, the processing time required by the bank of your destination and the accepted payment options in the nation from which you are transferring impact how quickly your transfer will arrive.
Can I use my card to make debit or credit purchases?
Your Wisely® card can be used for both debit and credit transactions. Debit transactions necessitate using a personal identification number (PIN) and are best used when you want cash back from a merchant. These transactions are free of charge. Credit transactions don't require a PIN and don't cost anything.
How do I use my card to make recurring monthly payments (such as a phone bill)?
If your biller or retailer accepts card payments, ask about direct bill payment methods availability. If they do, fill out the recurring billing payments form with your credit card information.
My Opinion
You should first make sure you have the most recent version of the Wisely app. You can update your app by going to the App Store or Google Play Store and searching for Wisely. This will let you use this card's benefits, and the transactions will be quicker.
Wisely card is very useful for day-to-day use of money and also for quick transfer of money anywhere. It is also very user-friendly and easy to use, so you quickly get the hang of it. Other than that, it is very beneficial in terms of saving money.
You can designate your Wisely card for your savings only. Other than that, there are no hidden fees for cash transfers or withdrawals, so you can use it freely and as often as you like. Moreover, it gives you the freedom to shop anywhere. Whether you want to shop online in the store or through an app, this card will work wherever a Visa® debit card or a Debit Mastercard® works.
Conclusion
You can easily transfer money from your Wisely card to your bank account using their app or website by following a few simple steps discussed above.
References