Disclaimer
Information presented on this web page is intended for informational and educational purposes only and is not meant to be taken as legal, financial, investment or tax advice. We do not accept any responsibility for any trading or investment related losses. Please review our disclaimer on before taking action based upon anything you read or see.
If you're going to start a restaurant business, but you don't consider hiring a professional consultant, there is a risk of loss in your business. This possibility of loss is due to many reasons that are not known to you, but a consultant knows very well. Restaurant business consultants are highly expert persons who have specific experience in their relevant field by working with different restaurants. Also, these advisors have a specific degree in their relevant field. So, being a restaurant business advisor is very beneficial as all owners love to hire someone who can teach them how to run their restaurant effectively. But before starting this business, you'll learn how to start a restaurant consulting business? 
You should have proper experience and knowledge about the restaurant business for being a good consultant. An advisor has many responsibilities, and you should learn all these tips for becoming a successful restaurant consultant. 
This article is mainly based on the importance of restaurant consultants, their responsibilities, and how to become such an advisor. This is going to be very beneficial for you if you're thinking about starting such a business. So, let's move down to explore all about this query without wasting our precious time. 
How to Start a Restaurant Consulting Business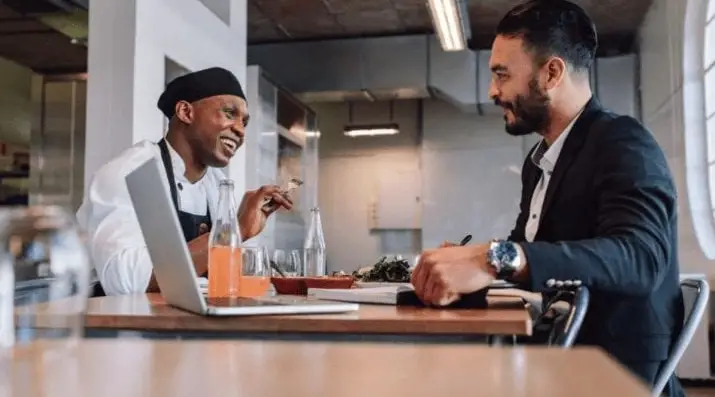 There is a complete procedure for becoming a successful restaurant consultant. You can also start your business in this niche by following an accurate procedure. Here are different steps that you will have to follow to start such a business. 
Be Expertise in the Relevant Field
The logic behind paying a handsome salary to a restaurant consultant is to run the business smoothly and effectively. Also, such advisors know particular solutions to some problems that owners can't solve themselves. Therefore, you can be a successful restaurant consultant if you know a specific method to solve their problems. 
But all this is not easy to do as you have to learn certain techniques and methods to solve the problems which lead to any loss. So, learn to become an expert to enhance the number of clients. The effect of your services on a particular company will be your real output that will increase your importance in the market. That's why you have to learn how to attract the maximum number of customers.
People with such interests should learn about the food industry by earning a bachelor's degree in food science. Once you have earned such a degree, you can apply to any recognized food company to get experience in the practical field. 
Gain Some Experience
A Simple degree does nothing for you as most of the restaurants demand an experienced consultant. To learn professional work, you'll have to gain some experience in the relevant field. 
The individuals may get experience in this field by performing managerial activities for some restaurant, school or hospital cafeteria, and in the cafeterias of industries. By doing so, one can learn how to manage a restaurant regarding health measurements or quality measurements. 
Get a Position of Consultant in the Food Industry
When you are an experienced worker, many food industries would love to hire you. Therefore, after getting experience in the relevant food, choose any position in the consultant firm of the food industry for you, and work there in a hierarchical order. 
Initially, you may succeed in getting any minor job in the firm. Still, if you show the best performance and the company receives maximum benefits from your services, promotion is possible. So, be honest in your position and work effectively to get a promotion. 
Acquire License from Local Authority
Contact your local government to ask about any laws that govern how food is prepared for customers. If you plan to serve customers alcohol, you might have to get a special permit or license.
Create a business plan
Create a business plan, including the company's goals, marketing strategies, locations for branches and offices, information about your staff members and their roles in the organization, financial projections, product research and development plans. Make sure you set deadlines for yourself based on this plan. 
You can create an executive summary for potential investors if you like; make it 30 pages long at most and include all important details summarized into two or three pages. According to Entrepreneur magazine, "An executive summary highlights the strengths of your business idea — not its weaknesses — and shows that you've done your homework."
Study Background Information
Read up on the background information of any potential restaurant consulting clients, such as their previous successes, failures, and most popular dishes. Check out each client's menu to see if they offer anything unique or unusual; it would be a good idea to find a niche with your expertise in cuisine and focus on one type of food at first. Keep track of all this important data in a file system back at the office.
Find Partners 
Find restaurants and/or bars you wish to partner with and invite them over for meetings at least twice a week. Discuss ways that you can work together: you might be able to offer special menus made from your clients' recipes, or you could provide consultation and training on how to increase the chances of a bar's alcohol license approval. 
Contact local food companies with large market shares to ask if they would like to work together; you could even try contacting big cereal manufacturers or other types of product suppliers. You may find that it is easier to partner up with one specific company that will provide all of the goods instead of buying them from various sources.
Make Client Agreement
Write up contracts and ask for a deposit fee; it is important to make sure clients understand that the agreement is legally binding. Once your consulting business has been running smoothly with a large clientele, you can begin licensing your name rather than keeping your identity anonymous. 
Licensing means that you would be taking part in larger events such as festivals or fairs where chefs from all over the world show off their skills. Perhaps one day, some aspiring chef will enter an event bearing an unfamiliar tag with "Renee" printed across the front – but the slogan underneath will tell everyone that Renee was just another alias for Chef Roxy.
Advertise Your Business
Here are some processes to advertise your restaurant consulting business.
Send out press releases and get your company's name out there by doing interviews with newspaper writers. Make sure you include an image of yourself so readers will know exactly who to contact regarding partnership opportunities, licensing deals, and more. Use social media sites like Facebook or Twitter to reach out to potential clients as well.
Host trade shows where chefs can come together for inspiration, try new recipes and learn from one another. People love learning about food, cooking techniques, and developing new kitchen skills – make the most of this interest in your upcoming trade show! Invite all types of vendors – including those who provide food equipment, dishes, or even apparel for waiters.
Advertise in journals meant for chefs, restaurant owners, and food enthusiasts. The best venues are local magazines, newspapers, or newsletters with readers who might be interested in what you have to offer. This is also a great way to get your name out there in the industry.
Offer discounts on the products Chef Roxy's restaurant consulting business sell; this can be done through coupons or by offering a special membership deal where clients receive extra benefits like free shipping, an exclusive newsletter with news and updates about new products, and more.
Pass Advice
Pass on advice about how restaurant owners can save money when buying food products. For example, you could host a contest where participants can submit their recipes, and Chef Roxy's restaurant consulting business will choose the winner based on preference.
Learn how to cook yourself
Most people enjoy having fun in the kitchen every once in a while, so you should be able to provide several mouthwatering dishes that clients can make after receiving your consultation or training service. Remember that you are not only selling ideas – if clients cannot cook to save their lives, but they would also have nothing to implement at all!
Organize events
Organize events for charity where people can come together to have fun while giving back! For example, provide catering services while simultaneously supporting a local non-profit organization. This will make it easier to build up your business' reputation and inspire others to hire you for their events in the future.
Submit business to restaurant awards
Submit your consulting business for restaurant awards; this can be done by contacting newspapers or magazines that cater specifically to food businesses or attending trade shows where the organizers host judging contests. If you do win, anyone who sees "Best New Restaurant Consulting Business" on your award will instantly recognize how much quality work you produce and what kind of following you have amassed so quickly!
Be a spokesperson
Become a spokesperson for popular food brands – if Chef Roxy's consulting business has been delivering great results with clients and prospects alike, she may be able to negotiate a deal with a food industry executive that could earn her an endorsement. This is a great way to get your name out there in the public eye and place it on millions of food packages!
Start Blog
Launch a blog about restaurant consulting business advice, cooking techniques, entertaining ideas, and so much more! People love reading how-to articles and testimonies from other professionals in their field – this will give you a lot of exposure while further promoting what you have to offer. 
Build up your blog by adding related content from trusted sources around the web; this can be done through relationships with media partners who provide useful information about cooking or hosting events. You may even cross-link recipes or tips from popular blogs within your industry if readers respond well to them.
Some Other Opportunities 
When a company experiences a remarkable change in customer rate and their output increases, you have further opportunities. For example, you can strive to be a product manager also if your performance is excellent. So, don't take the restaurant consultant as a dead profession as it can open many new ways for you. For example, you can work with a team where different experienced and fresh members will collaborate, which will be very beneficial for you. 
Tips for a Successful Restaurant Consultant Business
Here are some tips that are necessary to learn before starting a restaurant consultant business. These tips will help you in a successful restaurant business. 
Proper Education is Necessary
For an effective and successful restaurant consulting business, you'll be aware of all the facts of this field. This is possible only through proper education. So, get a degree in food science before you start your business of this type. 
Get Experience before Stepping into the Market
Only knowledge is not enough for a successful restaurant consultant business. Experienced persons have more understanding than the inexperienced. Also, the owners of the restaurants tend to hire experienced people for their firms. 
So, get some experience by working at some school, college, or hospital cafeteria. You can also work for some industrial cafeterias as they also have all sorts of customers. In short, get some experience in the relevant field by working in any food company or running a cafeteria. 
Through experience, you can attract more and more customers to your shop by improving its menu. This is the only way to build your value in the market. 
Work in Collaboration
A successful restaurant consultant knows how to deal with the rest of the staff. Your behaviour towards other people builds your image in their minds. If your behaviour towards them is smooth and friendly, they will obey you. When all the staff members work in collaboration, the output is always positive. On the other hand, if you staff members, they will not cooperate with you. When you fail to get their cooperation, you fail to achieve your goals. 
So, when you are working as a restaurant consultant, work in collaboration with other staff members. This will build your positive value, and your status in the company will automatically rise. 
Make a Plan
A planned business always meets the peak of success. So, try to move forward with an authentic plan and documentation. First, observe all the aspects of the business minutely. Then, eliminate those items that are losing their demand and add the trending items to your menu. In this way, you can increase the number of visitors. 
Try to Learn the Customers' Psychology
Your business depends on the number of customers, so try to increase this number with your abilities. This is possible only by knowing the psychology of the customers visiting your restaurant. So, visit the customers and take their arguments. This will help you to increase your standard. 
Get Proper Knowledge of Terms and Conditions
Every state has set certain terms and conditions for every business. Therefore, try to get maximum knowledge about the laws of your country about your business. This will help you to increase your turnout legally. 
Digitize Your Business
We are living in the era of technology. With an advance in technology, most businesses have been digitized. Also, the current pandemic situations of Covid-19 have put human beings in trouble. So, try to build a website for your business. Put your portfolio, experience, and education on that particular website. In this way, you'll be available for the customers online. They will be able to hire you from there.
Also, ask the owner of the restaurant to digitalize his business. By doing so, you can provide door-to-door service. This will increase the sale of your company even in the Covid-19 days. 
Frequently Asked Questions
How much should I charge for restaurant consulting?
The fee of restaurant consultants depends on the country and the region. However, the daily fee of a consultant falls between $250 to $1000, depending on the experience level. 
What do food consultants do?
Food consultants are well-educated and experienced persons who have a proper understanding of the industry. They act as advisers to improve the food quality and to make the food safe. 
What does a chef consultant do?
A chef consultant helps to improve the food quality by advising the chefs of the restaurant. They help to improve the food services. 
What does a business restaurant consultant do?
A restaurant consultant is an experienced person who has proper knowledge and understanding of the food industry. He helps to increase the sale by improving the menu and theme of the restaurant. 
Who is a restaurant consultant?
A restaurant consultant is a person with proper education and experience in the relevant field. He is hired for different reasons. Usually, a restaurant consultant has to solve the problems of the restaurant. Also, he has to improve the food quality, check the records, and help the staff to accomplish their tasks effectively. 
Conclusion
Restaurant Consultant Business is not bad if you have a proper understanding of it. For an effective business of this type, follow the rules mentioned above and regulations. Of course, these are not the only tips for an effective business, and you can explore more and more. But we have mentioned some crucial aspects of this business.