Disclaimer
Information presented on this web page is intended for informational and educational purposes only and is not meant to be taken as legal, financial, investment or tax advice. We do not accept any responsibility for any trading or investment related losses. Please review our disclaimer on before taking action based upon anything you read or see.
The purpose of automobiles is not just to drive on the roads but also to play a significant role in the country's economy. The United States of America have import more than $1.25 billion in second-hand vehicles and made an export of $5 billion in 2016. But, according to the US Department of Commerce, the import-export business is not the sole purview of the corporate trader, and the experts can make up only 4% of all exporters. This means that all other 96% of exporters get the lion's share out of the small part like yours if you are new in this field.
So you can also be a part of this development of Commerce in the automobile business, thus by building up a growing import-export business that facilitates trade all over the world. If you are interested in learning how to start a car export business, this article will be helpful to you.
How to Start a Car Export Business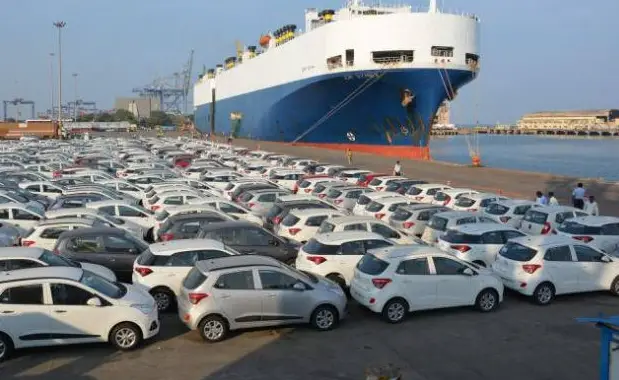 To start a car export business follow the below steps;
Arrange and learn about the initial costs of car export business
Fulfill all Legal requirements
Make limitations to focus on your market and target customers
Learn about the types of vehicles
Narrow down the targeted countries
Register the car export business
Arrange import and export licenses
Do specific paperwork for export of cars
Charge for your services
Arrange retainer model
Get international billing and payments
Arrange shipping of cars
Get business insurance for the car export business.
Now, let's dive into details of each step;
Initial costs to start the car export business
You can take the initial step of car export business with short upfront costs, as to start a business you should have a mobile phone and an internet connection. You have to make an investment in business cards, a website, and a fax machine. It will not make a big difference if you hire someone for your branding and make a distinctive and unique business logo. 
Starting an export car business can be difficult but rewarding. However, initial costs to start the car export business should be considered before starting any venture. These include the setup fees, operating costs, and indirect costs.
The first is how much you will have to spend to buy or lease office space, advertising/marketing, equipment, etc. Operating cost includes sales commissions, vehicle depreciation and so on.
Indirect costs are those associated with central management activities like staff recruitment and training. All of these should be compared with the expected profits to find out whether it makes sense to run an export car business or not.
Related post – How Much to Charge for Business Card Design.
Option 1: Buying a Franchise
The first option you have is to buy a franchise. Buying a franchise allows you to start an exported car business with the "Jumpstart Your Business" logo. They already have sales outlets available for your use at affordable rates, including ad space in their catalogues or websites.
The setup cost for buying a franchise is around $5,000, but they offer numerous benefits, including brand recognition and low initial investment requirements.
Option 2: Starting an independent business
A second option would be starting an independent business without any help from an already established brand. This means that you have to find a reliable dealership that will provide you with all the necessary equipment and facilities at affordable rates.
You will also need to consider advertising your business since customer outreach is crucial for any export car business to survive and grow.
The first step is to identify the most efficient source of advertisement, such as internet marketing, print media, etc., then determine their costs and select one according to your available budget.
The initial setup cost might be more than $20,000, but it allows you full control of all management decisions without having to rely on anyone else's advice or approval. Moreover, an independent business offers perks like tax benefits and a potential increase in profits due to lower fees associated with starting a new operation.
Option 3: Franchising with an existing company
The third option would be to franchise with an established brand. The advantage of this approach is that you get the opportunity to use the logo and customer base of a well-established business without worrying too much about day-to-day management decisions.
This means that you can concentrate more on building your clientele while taking advantage of other benefits like product discounts, marketing assistance, office space, etc. These are all part of buying into a franchise for one fee. 
The only downside is that you will have to shoulder the cost of visiting different dealerships and negotiating the best deal. The initial costs for starting a franchise are around $20,000-30,000, but it allows for an increase in profit margins since there are no additional fees to worry about.
Option 4: Establishing their own company from scratch
The fourth option is to establish your own company from scratch. This means that you have to find reliable suppliers to get wholesale rates on all related equipment, marketing materials, etc., and then go through a tedious process of finding distributors and setting up your initial contacts.
However, the advantage of doing it yourself is that you get the freedom to operate without constraints since this type of car export business allows for a high degree of independence and flexibility.
Option 5: Hiring an experienced consultant or manager
You can hire an experienced consultant or manager to start operations at a later date. Finally, a fifth option would be to hire an expert who has already established themselves as a successful exporter, then let them take care of all the operational aspects within their framework while taking advantage of their expertise and existing network.
Fulfill all Legal requirements
Exporting cars to other countries is an exciting way to get into the automobile business. It provides another source of income, allows you to use your car for marketing purposes, and can create goodwill in foreign markets. Before you start buying fleets of cars that need to be exported, here are some legal requirements to satisfy.
Foreign Corporation or Partnership
If you want to run this business as a corporation or partnership, state law has special registration requirements. A license should be obtained if required by local ordinances.
Still, it will not be necessary to obtain one if you do not solicit direct sales in the state where your vehicles are located or if they are shipped out of the country directly from the location. The U.S State Department publishes guidelines on exporting cars to foreign countries.
U.S. Customs Requirements
One of the most important steps in exporting cars is filing the appropriate forms with U.S. Customs. A Shipper's Export Declaration (SED) will be required for each shipment. It should include information on the number of vehicles exported, the value of vehicles, and whether any vehicles are shipped back to the states within one year of export.
The declaration must be filed with U.S. Customs 10 days before the car leaves the United States unless an exemption is granted by the Department of Commerce or federal agency that issued your license.
Most exporters file this form at least 30 days in advance to give themselves plenty of time to obtain any needed approvals/exceptions to get their shipments cleared.
Know more about: Best Absentee Businesses.
Export License Requirements
Foreign trade zones (FTZs) and temporary import bond exemption (TIBE) is required to start a car business in the USA. You can use a foreign trade zone in or near your plant to temporarily hold the cars for exportation.
For example, if you were going to ship 20 cars worth $40,000 each but only had room in your lot for 10 of them, you could bring the other ten into an FTZ and store them there until they were ready to be shipped out.
If you own a bonded warehouse approved by Customs, then no export license is required when moving goods between the FTZ and the warehouse–just fill out the appropriate forms and carry on business as usual. However, if Customs doesn't approve your warehouse location, a license must be obtained before moving goods from the FTZ to the warehouse.
Temporary Importation Bond Exemption 
In some instances, it is possible to obtain permission from Customs to temporarily import a certain number of cars for re-export within one year without filing a bond or paying duty.
This method requires approval on a case-by-case basis. It requires that you submit a letter detailing your request along with its justification and proof of foreign sales contracts along with an irrevocable Power of Attorney authorizing Customs officials to deal directly with your overseas customer if requested.
Foreign Export License Requirements 
If you are exporting through means other than direct shipment from the port, such as exporting via carrier (broken/complete units) or other means, you will need an export license.
In addition to filing the SED form mentioned above, other forms have to be completed before obtaining the license, including a Commodity Jurisdiction Request and a Shipper's Export Declaration (SED) Transmittal. The commodity jurisdiction request must be approved by the Department of Commerce before Customs will license your shipment.
Temporary Importation Bond Exemption
As in the temporary import bond exemption section described above, this exemption is also necessary for temporarily that imports cars for re-export within one year without filing a bond or paying duty. But only when such goods are not moved from their original location unless cleared through Customs first.
Consular Invoices
Suppose you are exporting cars that are not brand new or didn't originally leave the U.S. as a new car. In that case, you will need to get a Consular Invoice from your foreign customer, which clearly states the value of the export of the goods and whether they include any used parts.
This document, along with a purchase order from the buyer and other relevant documents must be submitted along with an export license application and should be attached to your SED form when you first file it with Customs.
Customs Regulations
For additional information on necessary forms and procedures for exporting cars out of the United States, contact:
U.S. General Services Administration
Washington, DC 20407
(202) 501-0580
Department of Commerce, Bureau of Export Administration
Washington, DC 20230
(202) 482-4811
The U.S. Department of Transportation, Federal Highway Administration
400 Seventh St., SW., Room 7219 SIB
Washington, DC 20590
(202) 366-0100 (voice), (202) 755-7687 (fax)
Make limitations to focus on your market and target customers
Finally, when you decide about the import and export business and estimate the initial costs, now it is a good and proper time to focus on your market. With the close examination, you will concentrate on a call and give your services best.
You have to do deep research on this industry. The more time you spend finding profitable ways, the more you will get the reward in the long run.
Foreign countries and cities you will target.
Customers you want to give your services.
Types of vehicles you will offer.
Your targeted customers should be those people who want to trade worldwide. They will either want to sell their goods to overseas buyers or will buy goods from foreign countries.
Learn about the types of vehicles
If you fulfil the needs of the targeted customers, it will be easy for you to select the models of cars you already know. Trusting in your experience means that you will understand the types of vehicles and export the car business.
Narrowing down the targeted countries
When you narrow the list of your target countries, you should investigate the requirement for the foreign market and the conducting business, registrations, tariffs, and other necessary documents. Before making the final decision, you should educate yourself to compete with the export trading companies.
Make the list of questions, ask the target country's foreign embassy, and visit the US Department of Commerce to learn more. According to the US Department of Commerce report, it is a vast business nowadays to get an annual profit of up to $1.2 trillion in commodities.
Registration of car export business
You have to fill out the US Department of State SNAP-R company registration for the car export business registration. When you submit your application, the department of state sends you the instructions to get the company identification number, as it is necessary for tax purposes and the US Department of Commerce registration.
Import and export licenses
Usually, Border Protection and US Customs do not need the license to export the cars to and from the United States of America. However, the other foreign countries and export management companies may need them. Therefore, if you are exporting cars, you can use your local port of entry to provide a license.
Specific paperwork for export of cars
While exporting vehicles, primarily cars, you must file the information in the Automated Export System of the US Census Bureau and the forms in the country you are shipping the vehicles. You can learn more about the rules and regulations by visiting Us Small Business Administration Business Guide.
Over time the rules and regulations change; it is good to seek knowledge from Import-export business specialists about authentic documents, certificates, and licenses.
Charging for your services
The import-export business usually depends on the commission or retainer. You can calculate the materials as a percentage of labour, but if you have records, facts and figures, use them as a guide, or you can use the rate of 35 % to 42% of your material and labour.
Commission structure with the help of commission structure, you will get the percentage of the particular deal you close for, usually around 10%. On the top of your commission list, you are liable to charge for packaging and shipping. You can enjoy high maximum transfers by viewing details into more than 20 currencies by saving up to 90% in the local banks.
The import and export management companies typically work on a commission basis up to 10%. So if you multiply this amount by 10 percent, you will get a commission of 11% per year.
Retainer model
In this model, your customers will be liable to pay you monthly to be on call when they need your services. Therefore, it would help to consider your accurate costs while finding the right amount of your retainer, including supplies, labour, and overhead charges. 
An alternative model
An alternative model comes beyond the commission and retainer structure in which you can sell or buy the cars in a simple manner. In this model, your profit will make the revenue while making the selling deals and merchandise.
International billing and payments
Your newborn business will need you to receive and make international payments, as this means that you can do transactions between the countries worldwide. You can make business payments affordably and safely with the more robust exchange rates and at low costs by comparing the services of a money transfer specialist.
Shipping of cars
For exporting cars from one country to another, you will require to arrange the shipping details. Firstly, contact the freight forwarder, as it is a company that will help you out in transportation of goods safely and efficiently. It will also help handle the logistics in completing documents, securing the cargo insurance, and finding cargo space.
Get business insurance for the car export business.
Insurance is essential for the car export business; if you want to run your business safely and lawfully along with the permits and licenses, insurance is necessary to operate your car export business.
In addition, business insurance is a great tool to protect your company's well-being if there is an event of covered loss or an accident. For different types of export businesses, there are various types of insurance policies available in the export car business market.
If you are unsure which insurance policy to opt for, you can start with the limited liability company insurance policy. For the export car business, its widespread coverage to offer by the insurance company.
If your business has workers and employees, you will need a worker's compensation insurance policy. Many states of the United States of America require business owners to have workers' compensation coverage in the car export business.
Frequently Asked Questions 
Is importing and exporting cars profitable?
Importing and exporting cars is a highly profitable enterprise. Due to the low overhead cost, the money you will make on commission will be yours. But building a profitable business needs dedication and good knowledge of the business.   
How much does it cost to start an export business?
To start an export business, it costs up to 65000 rupees to 70,000 as an initial investment.
Can you make money shipping cars?
Yes, you can make money by shipping cars, as in 2016. The US imported more than $1.25 billion in used passenger vehicles.
Is importing cars a good business?
Yes, importing cars is a good and profitable business and contributes a good share in the country's economy. However, to run a good company of importing cars needs hard work, dedication and proper knowledge about this field.
Is the export business profitable?
Import-export business is very lucrative, while ideas cost nothing but materializing and executing will give you profit. Therefore, the import and export business of vehicles will prove profitable. It will help you open new avenues for you and your country.
Which export business is best?
Clothing, vegetable export, beauty products, seafood export, meat exports, chemical exports, petroleum exports.
Conclusion
The car import and export of business is suitable for those who want to make good relationships with other countries. But to be a successful businessman in this field also needs an organized mind. A mind that can handle the field of logistics. Furthermore, while dealing with the automobiles business.
It is a must to abide by the rules and regulations and comply thoroughly. Therefore, you can dive into the creative automotive import and export business with these specific characteristics and qualities.